Join us down the rabbit hole for more home renovation ideas to spruce up your house, featuring your home office, bedroom, bathroom, kitchen, and gaming room.
While we have already covered some basic tips and tricks for renovating your home, we thought we would continue by answering a few commonly asked questions for each room. Read on snag some ideas for your next home remodel!
How can I make my home office look expensive?
As more people are working remotely or in a hybrid situation, having a home office is becoming more of a necessary addition to your home. During those online meetings, you will want to ensure your background looks just as professional as what you are seeing from your desk.
Tailoring your home office to look more expensive suggests that you are a successful professional. Success is appealing to potential clients who meet with you through video consultations, plus it just feels good to work in a beautiful office.
Here are some ways you can make your home office look more expensive and professional:
Adopt a minimalistic style. Clutter makes you look unorganized and can be distracting when trying to work.
Along with minimalism, a clean environment goes a long way.
A bright workspace through ample lighting or white paint can work wonders to brighten any space. Use small pops of colour to add accents.
Tastefully display credentials or statement pieces (choose only one or two to avoid overcrowding the space)
If you have enough space, adding a tasteful rug or a small chair with a decorative pillow can help pull together the room
How do you modernize an outdated bedroom?
Is it time for a bedroom refresh? While you have the option for a full bedroom renovation, you can still get away with several budget bedroom decor ideas that pack a punch.
Purchase new bedding, curtains, rugs, and accent pieces in the same colour palette. If you are choosing something with a pattern, try to isolate it to just one piece (bedding, curtains, rug, or cushions) to not overwhelm the space.
A clean, minimalistic style instantly transforms any outdated space into a more modern look. Declutter your bedroom and focus on only a few accent pieces. Invest in storage options to hide clutter and create a seamless look through the room.
Don't have the budget for new furniture? Try swapping out the hardware instead. Most wardrobes and doors can easily have their handles swapped out for updated pieces, saving you a pretty penny.
When in doubt, a new coat of paint on the walls usually doesn't hurt!
What do buyers look for in a bathroom?
Are you trying to remodel your home because you want to put your house on the market?
Understanding your buyers can help you sell your home quickly. If you aren't on the market to sell, these tips will still help you upgrade your bathroom into a more beautiful and inviting space.
When people walk into a bathroom, they don't want to be stressed out by all the cleaning and remodelling that needs to be done. For this reason, having a spa-like atmosphere can be very impactful.
A clean bathroom with a calm, neutral colour palette and natural decor items is one of the most effective ways to transform your bathroom into a relaxing, spa-like room.
When it comes to bathrooms, less is more. Keep it clean and simple.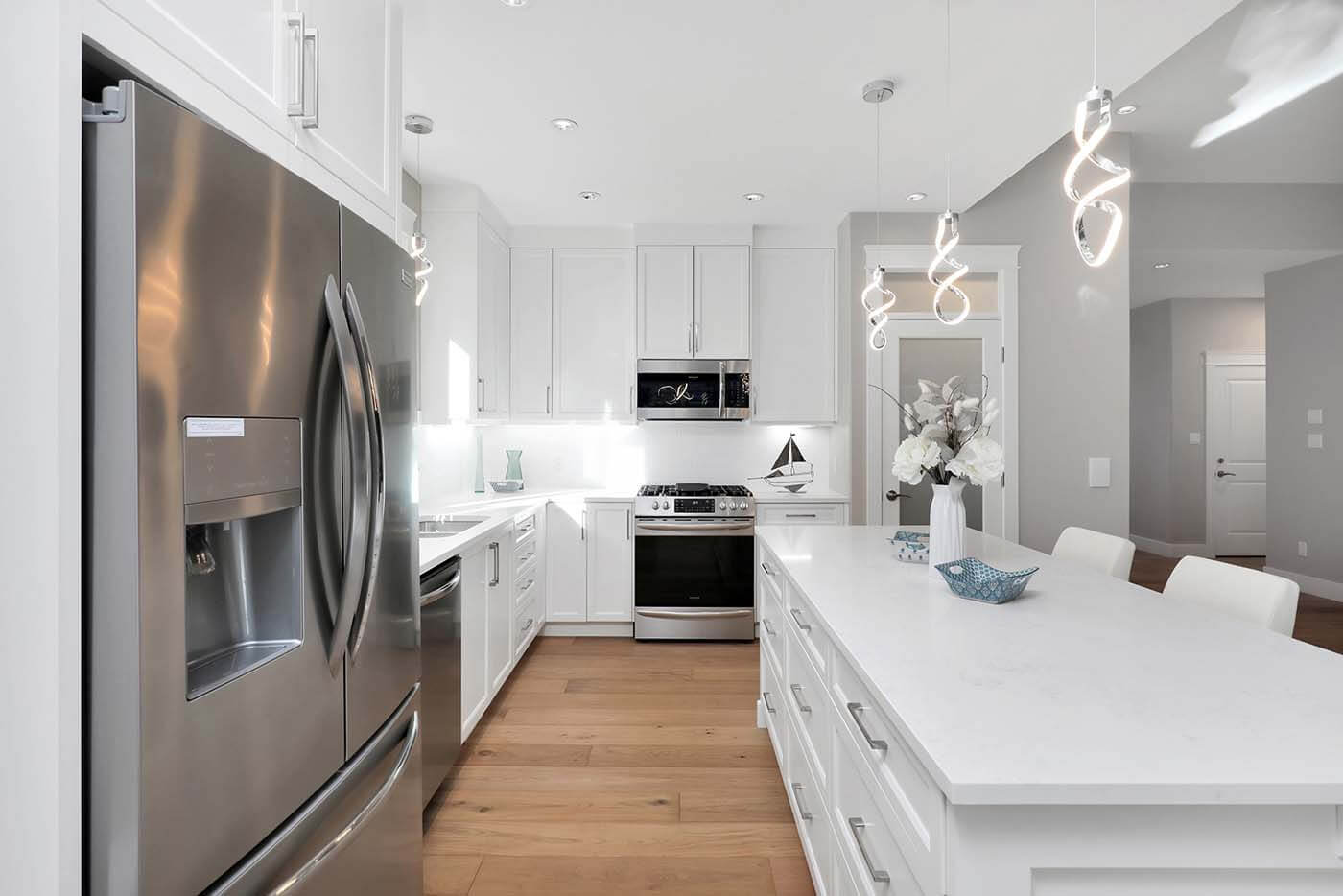 How to design an affordable kitchen that looks luxurious?
Kitchens are one of the most expensive rooms to renovate. It is also one of the most used rooms in the house. So how can you make your kitchen look more luxurious on a budget? We have covered several kitchen remodelling ideas already, so here are a few more to consider:
Invest in statement lighting. An elaborate light fixture draws your attention towards that piece and becomes the focal point of the room.
If you are unable to swap out your cabinets, consider upgrading the hardware. Just like our tip above for your bedroom, you can also swap out the hardware in your kitchen. A collection of expensive handles is a cheap renovation idea for every budget.
Do you still have a kitchen faucet from the 90s? For a couple of hundred dollars, you can have a beautiful new kitchen faucet that not only looks great but also functions better than your old one. Touchless or smart faucets are other options.
How can I make my gaming room better?
We all need to sit back and relax, so having an awesome gaming room is the perfect solution. Depending on your situation, you may want to focus on only a couple of systems or hobbies in the room. For example, are you a PC gamer or do you want a home theatre? Will there be enough room for your XBOX and a PC in the corner? Choose what type of gaming room you'd prefer, then expand outwards from that.
Ambient lighting through the use of LED strips behind furniture and around the perimeter of the room is a new trend seen in 2023. Dim lighting helps get into the gaming zone, as it allows you to focus on what you are doing while still having some light in the room aside from your screen.
Are there others living in your home? Soundproofing your gaming room, even a little, will emphasize your own experience and lessen it on others. While you're at it, add in some cool decor pieces such as neon clocks, neon lights, or statement pieces like a Triforce, Nuka Cola mini fridge, or a vintage movie poster.
Choose furniture that is appropriate for the space. If you have multiple people over, make sure they can all sit comfortably without feeling cramped. Extra perks such as a mini fridge, personal bar, or space to play a tabletop game are always a good idea.
Looking for a professional opinion for your next home renovation? Contact Ballard Fine Homes
Are you inspired to make some positive changes to your home? Ballard Fine Homes is a professional home-building company that also helps clients with home renovations. From small to extravagant, we help clients turn their dreams into real, tangible experiences to be enjoyed for years to come.
We invite you to browse through our showroom and get inspired for your next home renovation. For any questions or concerns, our team is here to help and guide you through your next home renovation or custom home-building experience.