Are you looking for a mega guide for tourist attractions in Nanaimo? You're in the right place! Our list of 17 fun activities in Nanaimo is sure to hit all the right marks, no matter what crowd you are hanging out with.
At Ballard Fine Homes, we are a custom home-building company on Vancouver Island. One of our top places to build is in Nanaimo, so we wanted to share some of the things we love the most about Nanaimo, including the variety of things to do.
You may have landed on this article because you are looking for tourist attractions, or perhaps you are considering moving to Nanaimo and want to see what is available. If you are interested in building your own custom home in Nanaimo, give us a call. Otherwise, enjoy having fun with any of these suggestions!
* Disclaimer: Always verify with each company for current prices, hours of operation, and safety information.
Table of Contents
Harbour Air Seaplane Tour
Soar through the skies and take in breathtaking aerial views of Nanaimo's stunning coastline. Prices start at around $140 per person. Suitable for adventure seekers and nature lovers. The seaplane terminal is located at 100 Port Drive.
Nanaimo is known for its picturesque coastline, and what better way to appreciate its beauty than from above? Hop on a Harbour Air Seaplane and prepare for an unforgettable adventure. As you take off from the Nanaimo seaplane terminal, the excitement builds, and soon you'll find yourself soaring high above the glistening waters.
During the tour, you'll be treated to jaw-dropping panoramic views of the rugged coastal landscape, with its lush forests, hidden coves, and majestic mountains. Keep your camera ready to capture snapshots of the stunning scenery. The experienced pilots provide informative commentary, pointing out notable landmarks and sharing fascinating facts about the area's history and wildlife.
Whether you're a thrill-seeker, a nature enthusiast, or simply seeking a unique perspective on Nanaimo, the Harbour Air Seaplane Tour is a must-do activity. It's an opportunity to create lifelong memories and see the city's natural beauty in a whole new way. So buckle up, get ready for takeoff, and prepare to be awe-inspired! Check out their website for more information.
Nanaimo Bar Trail
Calling all dessert lovers!
Nanaimo is renowned for its mouthwatering Nanaimo Bars, and what better way to experience the city's culinary delight than embarking on the Nanaimo Bar Trail? This self-guided tour takes you on a delectable journey through downtown Nanaimo, where you'll have the opportunity to sample different variations of the famous treat.
But wait, what is a Nanaimo bar?
This delicious and iconic Canadian treat is a no-bake dessert that consists of three distinct layers. The base layer is made from a mixture of crushed graham crackers, cocoa powder, coconut flakes, chopped nuts (usually walnuts), and melted butter or margarine. The middle layer contains custard, and it is all topped off with melted chocolate. It is served chilled and is a perfect combination of sweet and smooth custard and chocolate.
At each stop along the trail, you'll be greeted with tempting displays of Nanaimo Bars, each with its own unique twist. From classic recipes to innovative flavor combinations, you're in for a treat at every corner. Sink your teeth into layers of chocolate, custard, and crumbly goodness while exploring the charming streets of Nanaimo.
The Nanaimo Bar Trail is suitable for dessert enthusiasts of all ages. Whether you're a local or a visitor, it's a fun and delicious way to immerse yourself in Nanaimo's culinary culture. Plus, it's a great opportunity to pick up some Nanaimo Bars to take home as souvenirs or gifts for friends and family. Get ready to satisfy your sweet tooth and embark on a delightful adventure!
Newcastle Island Marine Provincial Park
Catch a ferry to Newcastle Island and spend the day hiking, cycling, or picnicking amidst beautiful nature. Ferry tickets cost $15 for adults and $7 for children. Ideal for outdoor enthusiasts and families. The ferry departure point is at 10 Wharf St, near the iconic copper capped Beacon condominiums.
Escape the hustle and bustle of the city and venture to Newcastle Island Marine Provincial Park, a serene oasis just a short ferry ride away. Located in the Nanaimo Harbour, this island paradise offers a wealth of outdoor activities and natural beauty. Catch the ferry from the departure point and prepare for an adventure.
Upon arrival, you'll be greeted by pristine beaches, lush forests, and scenic trails waiting to be explored. Lace up your hiking boots and embark on a picturesque trek through the island's network of trails, leading you to breathtaking viewpoints and hidden coves. If you prefer cycling, bring your bike along and pedal your way around the island, taking in the sights at your own pace.
Newcastle Island is also a fantastic spot for picnicking and relaxation. Pack a delicious lunch and find a cozy spot by the waterfront or under the shade of towering trees. Listen to the sounds of nature, feel the gentle sea breeze, and let the island's tranquility wash over you.
Whether you're an outdoor enthusiast seeking adventure or a family looking for a day of fun in nature, Newcastle Island Marine Provincial Park has something for everyone. Immerse yourself in the island's natural beauty, make memories with loved ones, and discover a hidden gem just off the shores of Nanaimo.
Nanaimo's Farmers' Market
Discover local produce, artisanal crafts, and delicious treats at the Nanaimo Farmers' Market. Entry is free, and prices vary for products. Suitable for foodies and those seeking unique gifts. There are several markets, so check out this list for what is currently available.
Nanaimo Farmers' Markets are a hub of activity every week. As you step into the market, you'll be greeted by a bustling atmosphere filled with the aroma of fresh produce and the sound of cheerful chatter.
Wander through the stalls, where local farmers proudly display their bountiful harvests. From vibrant fruits and vegetables to fragrant herbs and homemade preserves, the market is a haven for those seeking the freshest ingredients for their culinary creations. Be sure to strike up conversations with the friendly vendors, who are always happy to share stories and offer cooking tips.
But the Nanaimo Farmers' Market isn't just about food—it's also a haven for artists and crafters. Discover unique handmade jewelry, beautiful artwork, and intricately crafted pottery. Support local artisans by purchasing one-of-a-kind treasures that reflect the spirit of Nanaimo.
Kayaking Rentals
Rent a kayak and paddle along the tranquil waters of the harbour, soaking up the scenic beauty of the area. Perfect for outdoor enthusiasts and water lovers. Rentals can be found at Adventuress Sea Kayaking, Coastal Expression, and other facilities.
Are you ready for a splash of adventure on the waters of Nanaimo Harbour? Grab a paddle and hop into a kayak for an exhilarating experience. Kayak rental shops in Nanaimo offer you the opportunity to explore the stunning coastal scenery at your own pace.
As you glide through the calm waters, you'll be surrounded by breathtaking views of the harbour and its picturesque shoreline. Feel the refreshing mist on your face as you navigate past rocky outcrops and hidden coves. Keep an eye out for local wildlife, such as seals, sea birds, and even occasional glimpses of playful dolphins.
Whether you're a seasoned kayaker or a beginner, paddling through the Nanaimo Harbour is an accessible adventure suitable for all skill levels. So grab a friend, don a life jacket, and embark on a memorable kayaking journey in the heart of Nanaimo.
Paint Nite
Join a fun-filled painting session at various local venues in Nanaimo. Prices start at around $40 per person, including art supplies. Tickets can be purchased through their website. Suitable for creative souls and social butterflies. Venues change, so check the Paint Nite website or the local Facebook page for upcoming events.
Get ready to unleash your inner artist at Paint Nite, a unique and entertaining experience that combines painting, socializing, and a dash of liquid inspiration. Whether you're a seasoned artist or a beginner, Paint Nite offers a welcoming and lively environment for everyone to express their creativity.
At Paint Nite, you'll gather with fellow art enthusiasts at local venues in Nanaimo, such as cozy pubs or trendy cafes. Guided by a talented local artist, you'll follow step-by-step instructions to create your own masterpiece. With a paintbrush in one hand and a drink in the other, you'll let your imagination run wild as vibrant colors come to life on the canvas.
No need to worry about bringing art supplies—Paint Nite provides all the materials you'll need, including brushes, paints, and a canvas. So gather your friends, sip on your favorite beverage, and let your artistic side shine in a fun and relaxed atmosphere.
No previous painting experience is necessary—just bring your enthusiasm and a willingness to try something new.
Nanaimo Bar Cocktail Tour
Are you ready to embark on a tantalizing journey of Nanaimo Bar-infused libations? The Nanaimo Bar Cocktail Tour is a delightful adventure for those with a taste for mixology and a love for the city's iconic dessert. Prepare your taste buds for a symphony of flavors as you sip on creative concoctions inspired by the beloved Nanaimo Bar. If you have sampled the dessert around the city, scroll down the page a bit more to hit the adult drinks.
Throughout Nanaimo, trendy bars and cocktail lounges put their own spin on this classic treat, blending rich chocolate, smooth custard, and a hint of nutty goodness with spirits and liqueurs. From creamy martinis to decadent shooters, each cocktail tells a unique story and offers a tantalizing twist on the beloved dessert.
As you embark on this cocktail tour, you'll have the opportunity to explore various venues, each showcasing their own Nanaimo Bar-inspired creations. Prices for the cocktails may vary depending on the establishments you visit, so it's best to check with the local bars to plan your adventure.
Cheers to the perfect blend of sweetness, creativity, and the spirit of Nanaimo!
Breakout Nanaimo Escape Rooms
Do you have what it takes to solve puzzles, unravel mysteries, and beat the clock?
Nanaimo's Escape Rooms are the ultimate test of teamwork, critical thinking, and nerves of steel. Gather your friends, family, or colleagues and prepare for an adrenaline-pumping experience like no other. Prices typically range from $25 to $45 per person, as it depends on how large your group is. Perfect for puzzle lovers and thrill-seekers. Escape rooms are located at various venues in Nanaimo, such as Breakout Nanaimo Escape Rooms and Exit Canada.
As you step into the escape room, you'll be greeted by a room filled with clues, puzzles, and hidden secrets. Your mission? Work together as a team to unravel the mysteries, crack the codes, and escape before time runs out. The clock will be ticking, the tension will rise, and every decision you make will bring you closer to victory or defeat.
So gather your squad, put your problem-solving skills to the test, and see if you have what it takes to escape the room and claim victory!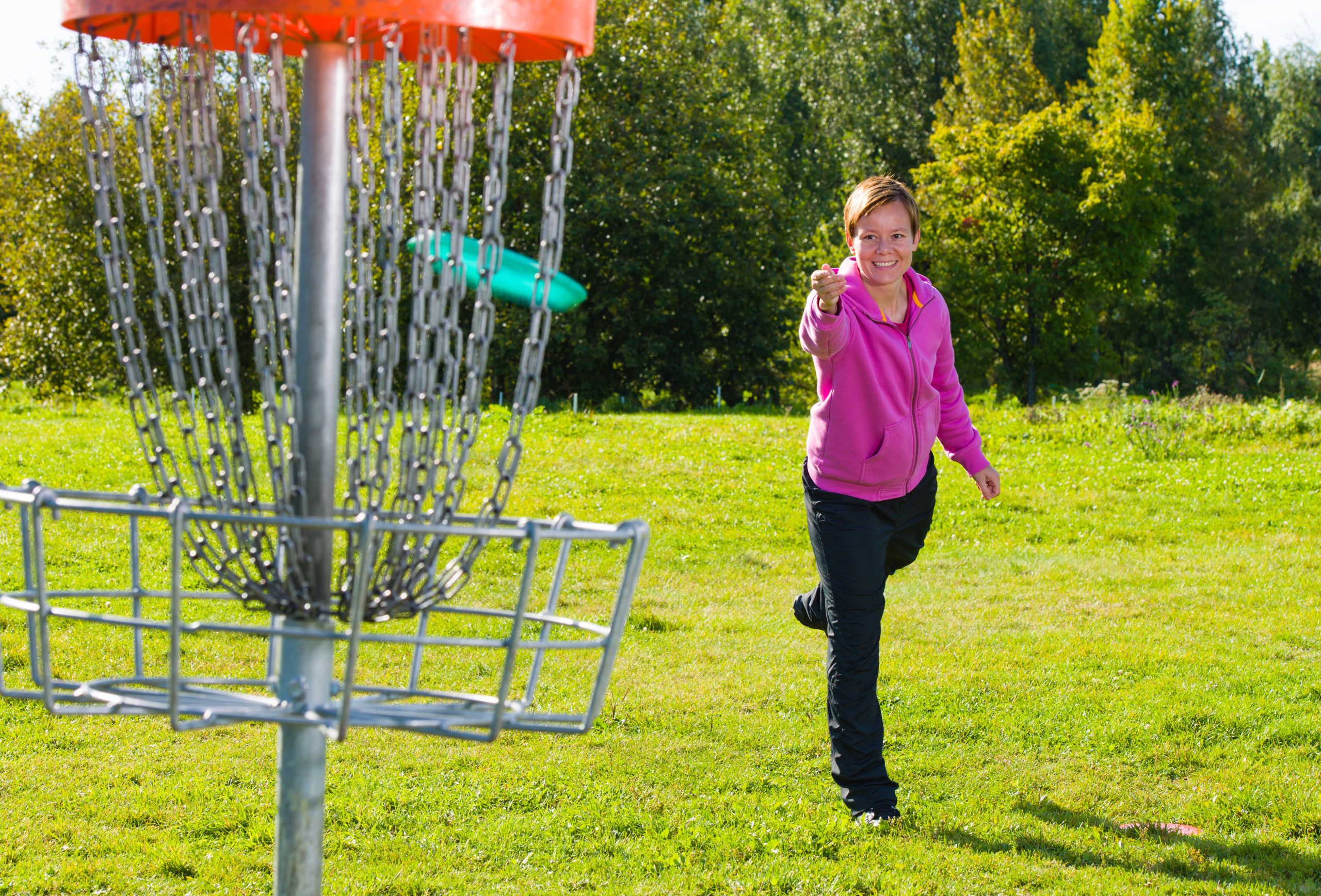 Play a round of disc golf
Channel your inner Frisbee champion and try your hand at disc golf in Bowen Park. Perfect for outdoor enthusiasts and those seeking a fun and active challenge. Bowen Park is located at 500 Bowen Road.
This unique and exhilarating game combines the precision of golf with the fun of throwing a Frisbee, creating a challenging and enjoyable experience for all. As you navigate through the park's winding trails and lush greenery, you'll encounter a series of designated targets known as baskets. Your goal is to throw your disc from the starting point and land it in the basket with as few throws as possible.
Disc golf is suitable for outdoor enthusiasts and anyone looking for a fun and active challenge. The cost of playing is generally free, although you may choose to rent discs from local shops if you don't have your own. So gather your friends, unleash your inner Frisbee champion, and enjoy a memorable round of disc golf amidst the natural beauty of Bowen Park.
VRCore Virtual Worlds
Immerse yourself in cutting-edge virtual reality experiences at VRCore. Prices vary depending on the duration and type of experience. Perfect for gamers, tech enthusiasts, and those seeking an unforgettable virtual adventure. Game On! Virtual Worlds is located at 2-1585 Bowen Road.
Equipped with high-tech VR headsets, motion controllers, and a wide array of immersive games and experiences, VRCore takes gaming to a whole new level. Whether you're battling robots in a post-apocalyptic wasteland, exploring fantastical realms, or experiencing heart-pounding adventures, you'll be transported to an entirely different reality.
Prices for experiences vary depending on the duration and type of adventure you choose. From short sessions to extended gameplay, there are options for every budget and interest. It's the perfect destination for gamers, tech enthusiasts, and those seeking an unforgettable virtual adventure.
Nanaimo Museum
Delve into Nanaimo's rich heritage and culture at the Nanaimo Museum. Admission is typically $2 for adults. Perfect for history buffs, curious minds, and those seeking to connect with the city's past. The museum is located at 100 Museum Way, Nanaimo.
As you explore the museum, you'll discover the diverse facets of Nanaimo's past. From the rich traditions of the Snuneymuxw First Nation to the city's coal mining heritage, each exhibit offers a unique glimpse into the area's cultural tapestry. Learn about the challenges and triumphs of early settlers, delve into the world of coal mining through a reconstructed mine, and gain insights into the individuals who have left their mark on Nanaimo.
Picnic at Neck Point Park
Indulge in a delightful outdoor dining experience surrounded by natural beauty at Neck Point Park. Entry is free. Perfect for nature lovers, families, and those seeking a peaceful getaway. Neck Point Park is located at 1055 Morningside Drive, Nanaimo.
Pack a picnic basket filled with your favorite treats, grab a cozy blanket, and find the perfect spot to unwind and feast amidst the beauty of nature. Whether you choose to sit on the grassy fields overlooking the water or find a cozy nook among the trees, the serene ambiance and breathtaking views will enhance your dining experience.
Don't feel like packing? Grab something to go at a nearby eatery, like Piper's Pub or Delish Cupcakes to make it even easier!
So, gather your loved ones, embrace the natural beauty of Neck Point Park, and create lasting memories as you indulge in a delightful picnic experience. Savor the flavors, soak in the views, and let the peaceful ambiance of this coastal haven rejuvenate your senses.
(Note: Please ensure to follow park guidelines and leave no trace behind. Bring your own picnic supplies and take care of any trash responsibly.)
Hiking at Westwood Lake Park
Embark on a hiking expedition surrounded by the beauty of Westwood Lake Park. This picturesque park, situated at 381 Westwood Road, offers a network of trails that wind through lush forests and hug the tranquil shores of Westwood Lake. Whether you're a seasoned hiker or a beginner seeking a leisurely stroll, there's a trail for everyone to enjoy.
As you meander along the well-maintained pathways, you'll be treated to breathtaking views of the lake and the surrounding natural landscape. Breathe in the fresh air, listen to the sounds of nature, and feel the invigorating energy of the outdoors. You might even encounter some wildlife along the way!
The entry to the park is free, making it an accessible option for a day of exploration and connection with nature. So, pack some snacks, bring your camera to capture the beauty, and embark on a memorable hike amidst the tranquility of Westwood Lake Park.
Discover the Nanaimo Waterfront
Take a leisurely stroll along the Nanaimo Waterfront and soak up the charm of this vibrant coastal area. Entry is free. The Nanaimo Waterfront stretches along the Newcastle Channel and is accessible from various points in downtown Nanaimo.
This bustling coastal area offers a delightful blend of natural beauty, marinas, and a vibrant waterfront promenade. Whether you're seeking a peaceful stroll, capturing stunning photographs, or simply enjoying the lively atmosphere, the Nanaimo Waterfront has something for everyone.
As you traverse the promenade, you'll pass charming shops, cafes, and restaurants where you can grab a bite to eat or sip a refreshing beverage. Admire the boats gently bobbing in the marinas, watch seagulls soar through the air, and breathe in the invigorating scent of the sea. The waterfront is also a great spot for people-watching and immersing yourself in the lively energy of the city.
Maffeo Sutton Park
Discover a gem in the heart of Nanaimo at Maffeo Sutton Park, a sprawling waterfront park that offers a wide range of activities and natural beauty. Located at 10 Comox Road, this park is a favorite destination for families, outdoor enthusiasts, and those seeking a day filled with recreation and relaxation.
As you enter the park, you'll be greeted by lush green spaces, colorful flower beds, and the gentle lapping of the waves. Maffeo Sutton Park is an ideal spot for a family outing, with ample picnic areas, playgrounds, and open spaces for kids to run and play. Bring along a frisbee or a soccer ball and enjoy a friendly game on the grassy fields.
For those seeking adventure on the water, the park also features a boat launch and a public dock, allowing you to set sail or simply take in the views of the harbor. The waterfront walkway invites you to stroll along the shoreline, bask in the beauty of the ocean, and maybe even spot some marine life.
Entry to Maffeo Sutton Park is free, making it a budget-friendly option for a day of outdoor enjoyment. So, pack a picnic, bring your favorite outdoor games, and immerse yourself in the beauty and recreational opportunities that Maffeo Sutton Park has to offer. It's a place where cherished memories are made and the spirit of nature thrives.
WildPlay Element Parks
Unleash your inner thrill-seeker and embark on an adrenaline-pumping adventure at WildPlay Element Parks, located at 35 Nanaimo River Road.
Are you ready to push your limits and embrace the call of adventure? Look no further than WildPlay Element Parks, an exhilarating destination for adrenaline junkies and adventure enthusiasts.
At WildPlay, you can take on daring zip lines, navigate challenging obstacle courses, and test your courage on breathtaking aerial adventures. Soar through the treetops, conquer suspended bridges, and experience a rush of excitement as you tackle each heart-pounding challenge. With varying levels of difficulty, there are options for both beginners and experienced adventurers.
The prices at WildPlay Element Parks vary depending on the activities you choose to participate in. It's best to check their website for specific pricing details and to make reservations.
So, gather your courage, strap on your safety harness, and prepare to unleash your inner adventurer at WildPlay Element Parks. It's an opportunity to conquer fears, push your boundaries, and create memories that will last a lifetime!
Shopping at Woodgrove Centre
Calling all shopaholics! Get ready for a shopping spree like no other at Woodgrove Shopping Centre, Nanaimo's premier shopping destination. With over 150 stores and services, this bustling retail hub has everything you need to satisfy your fashion cravings, discover the latest trends, and find that perfect item you've been searching for. Woodgrove Shopping Centre is located at 6631 Island Hwy N.
From popular fashion retailers to specialty boutiques, you'll find a wide range of options to suit every style and budget. Whether you're in the mood for a wardrobe refresh, hunting for unique home decor, or seeking that must-have gadget, Woodgrove Shopping Centre has it all. Explore well-known brands, browse through local stores, and uncover hidden gems as you navigate the bustling aisles.
Aside from a vast array of stores, Woodgrove Shopping Centre also offers a variety of dining options to refuel after a successful shopping spree. Whether you're in the mood for a quick bite, a leisurely meal, or a tasty treat, you'll find a range of eateries to satisfy any craving.
Woodgrove Shopping Centre is a haven for fashionistas, bargain hunters, and anyone in need of a dose of retail therapy. Whether you prefer to shop 'til you drop or simply enjoy the bustling atmosphere, this shopping paradise is sure to satisfy your cravings. So, grab your shopping bags, put on your most comfortable shoes, and get ready to embark on a delightful shopping adventure at Woodgrove Shopping Centre.
Oh and when you're done, don't forget to hit up Costco on the way home!
Impressed by Nanaimo? Move to Vancouver Island and enjoy it year-round!
While we know it takes more than a list of activities to convince anyone to move to another city, it can help churn dreams into motion. Dream building is what we do at Ballard Fine Homes. We build custom homes in places like Nanaimo, Parksville, Comox, and Courtenay.
So, if you happen to be considering moving to Nanaimo, we'd love to hear from you. We'll give you the inside scoop on how building a custom home can be an affordable way to get into the Nanaimo real estate market, or let you know what areas we think are the best for growing families or retirees. Don Ballard and his team have been building custom homes on Vancouver Island for many years – yours could be next!