As the heart of the home, the kitchen is one of the most important rooms in any house. It's a space where families gather to share meals, entertain friends, and create memories. As we move into 2023, kitchen aesthetics are evolving to meet the changing needs and desires of homeowners. From colours and textures to technology and functionality, here are some of the top kitchen design trends to watch out for in 2023.
Natural and Organic Materials
Natural and organic materials are likely to be a dominant trend this year. Homeowners are looking for ways to bring the outdoors inside, and raw materials like wood, stone, and metal are perfect for achieving this look. Wood kitchen cabinets
and floors will be popular, as will stone countertops and backsplashes. Metal accents like copper, brass, and gold will also be on-trend, adding a touch of warmth and luxury to the kitchen.
Modern white and grey kitchens complement the organic trend very well. The neutral palette is the ideal choice for the softer greys and subtle markings of stonework, as well as warm earth tones as accent options.
Wood Cabinets
There's a new kitchen cabinet trend you might already be familiar with. As homeowners look for ways to create a warm and inviting atmosphere in their kitchens, wood cabinets are often a perfect choice. From light, natural woods to rich, dark stains, there is a wide range of options to choose from.
One trend to watch for is the use of mixed woods in kitchen design. Rather than sticking with a single wood type, homeowners will mix and match different woods to create a unique and personalized look. For example, light wood cabinets can be paired with a darker wood floor to create an agreeable contrast.
Stone Countertops and Backsplashes
Stone countertops and backsplashes are continuing to be on-trend. From classic granite to modern quartz, there will be a wide range of stone options to choose from.
One difference in 2023 is the use of textured stone. Rather than a smooth, polished finish, stone with a more natural, textured surface will be the more popular design. This can create a more organic and natural look in the kitchen.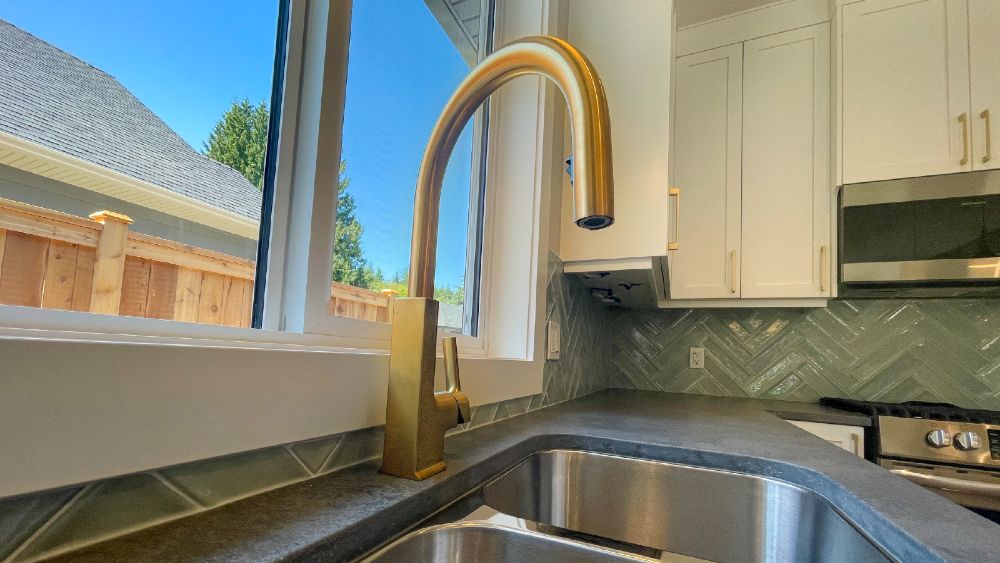 Bold Colours
While neutral colours like white and gray have continued to dominate kitchens, we will also see a return to bold, vibrant hues. Colours like navy blue, emerald green, and deep purple will be popular choices for cabinets and walls, while brighter shades like lemon yellow and coral will be used as accents. These colours can be used to create a dramatic statement or to add a pop of colour to an otherwise neutral kitchen.
Navy blue cabinets can create a dramatic statement in the kitchen, especially when paired with white or light-coloured countertops. Emerald green, a rich, jewel-toned choice, pairs beautifully with natural and organic materials. When used correctly, these bold colours draw positive attention towards a statement piece, accent wall, or as minimal ways to increase colour in a space.
Open Shelving
Are you looking for the next kitchen cabinet trends? Instead of traditional cabinets, homeowners are opting for open shelves to display their dishes, glasses, and cookbooks. Open shelves create a more airy, open feel in the kitchen and allow for easy access to everyday items. They also provide an opportunity to showcase beautiful dishes and decorative items.
Smart Kitchens
Technology is changing the way we live, and it's also changing the way we design our kitchens. Smart appliances like refrigerators, ovens, and dishwashers will be connected to the internet, allowing homeowners to control them from their smartphones or other devices. This technology will also allow appliances to communicate with each other, creating a more seamless and efficient cooking experience.
Touch-screen refrigerators, automatic sensing trash cans, temperature control coffee mugs, and voice-activated microwave ovens (via Amazon Alexa) are a handful of smart kitchen appliances you will start spotting in stores.
Mixed Metals / Metal Accents
In 2023, mixing metals and using them as accents will be a hot trend in kitchen design. Mixing and matching different metals like brass, copper, and stainless steel creates unique and personalized looks. For example, a copper range hood paired with brass hardware and stainless steel appliances can create an eclectic and pseudo-steampunk appearance. The use of mixing metals can add depth, texture, and character to an otherwise plain kitchen.
Multifunctional Islands
Kitchen islands have been a popular trend for several years, partly due to how convenient and functional they are. Multifunctional islands that serve as both a workspace and a dining area will be a top trend. These islands can include built-in appliances like stovetops and ovens, as well as seating areas for casual dining. They can also be used for prep work and storage, making them a versatile and essential element in any modern kitchen.
With more open-concept designs trending year after year, multifunctional spaces like kitchen islands are looking to stick around for the long term, especially for homes with larger families.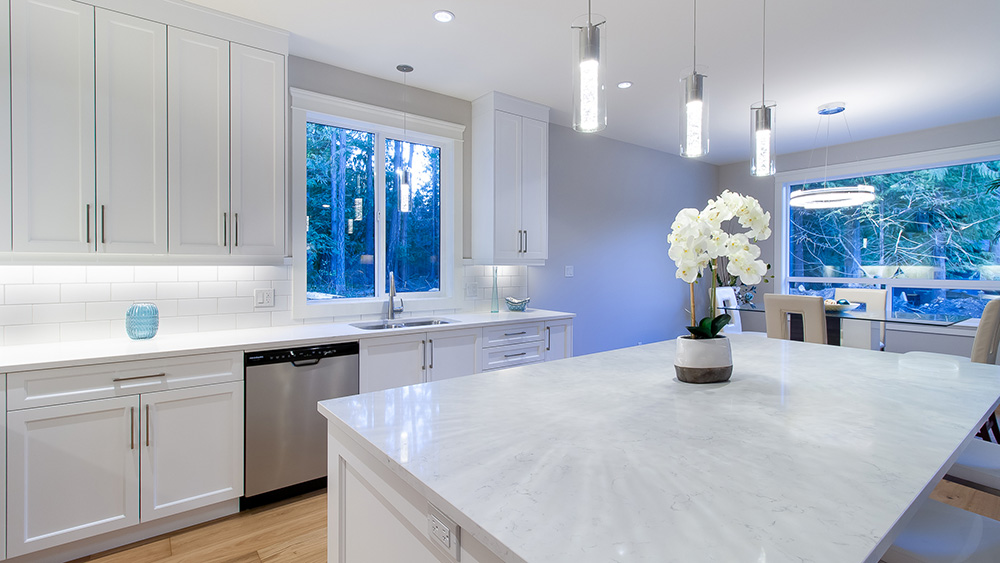 Statement Lighting
Lighting is an essential element in any kitchen, and in 2023, statement lighting will be a top trend. These fixtures can add a touch of glamour and drama to the space, making it feel more sophisticated and luxuriously designed. They can also be used to highlight other design elements in the kitchen, such as a beautiful countertop or a statement backsplash.
When incorporating statement lighting into your kitchen design, it's important to consider the overall style and aesthetic of the space. A modern chandelier may look out of place in a traditional kitchen, for example. Similarly, a rustic pendant light may not fit in with a sleek and contemporary design.
It's also important to consider the placement of your statement lighting. Statement lighting should be positioned in a way that draws the eye and creates a focal point in the space. This could mean hanging a chandelier over a dining table or clustering pendant lights over an island.
Sconces are another option. While they may not provide as much light as a chandelier or pendant, sconces can be used to create a warm and inviting atmosphere. They can be mounted on the walls above cabinets or on either side of a range hood.
Custom Home Designs
What are your thoughts on 2023's upcoming kitchen design trends? With an emphasis on natural, raw materials mixed with bold colours and smart appliances, it appears this will be a year to remember for kitchen aesthetics. If you feel a little overwhelmed, don't worry. We are here to help.
At Ballard Fine Homes, we provide clients with a showroom demonstrating many of our designs. Our example of a white modern kitchen is the perfect blank canvas to experiment with mixing metal finishes, exploring stone backsplash options, and seeing in person what design samples look like in natural lighting. If there is something you are curious about but don't see on our website, our friendly staff are more than happy to accommodate your ideas. Reach out today and experience the Ballard Fine Homes difference.