Don't miss out on these must-have features for your new custom home
Whether you are browsing or in the planning stage, your custom-designed home should reflect your personality, lifestyle, and daily needs. Ballard Fine Homes is a Vancouver Island custom home-building company, with years of experience and an abundance of happy clients to show for it. We have talked to people from all walks of life and have taken note of the most requested features, which we are happy to now share with you.
In this article, we will reveal several must-have features in a new house so you can pick and choose the best ones for your custom build. If you want more inspiration, feel free to visit our showroom in person, or browse our website to see what is currently available.
Canadian house designs are fresh, modern, and high-end
When choosing what to include in your custom home, it's hard to go wrong when you aim for a new, modern, and luxurious look. If cost is a concern, you can still have several high-end designs on a smaller budget by choosing your fixtures and finishes wisely. Other techniques, such as the general tone of a room make a large difference, such as the moment you step through the front door.
A Cathedral entrance is the perfect first impression for your home. Immediately upon walking through the front door, cathedral entrances usually contain high ceilings and an elaborate lighting fixture. This space feels open, airy, and inviting. There is usually more than enough room for storing footwear and outerwear and often contains a wide hallway that opens up into the rest of the main living areas.
An open floor plan is a modern trend that will last generations. This style allows for bright, expansive spaces allowing more customization and decorative options for the homeowner.
Instead of trying to purchase a specific piece of furniture to fit an oddly shaped wall, you are presented with a blank canvas where only your imagination can hold you back. This style is also great for large families and gatherings, as it encourages conversations and interactions that aren't hiding behind a wall.
Kitchen design trends you can't ignore
You've looked at backsplashes, countertops, paint, flooring – what else is there? Oh, there's more!
A relatively newer feature for kitchens is the option to have soft-close cabinets and drawers. Drawers in kitchens have become more popular because of their functionality for storing large items like pots and pans. However, closing a heavy drawer usually means a loud noise and extra wear and tear. Soft-close (also known as soft-touch) drawers automatically "slow down" the closing of the drawer just before it finishes, so you won't hear any loud bangs in the kitchen from that.
A hidden butler's pantry helps separate the bulk of your kitchen storage away from the main space, while still being easily accessible. This ensures everything stays organized and less cluttered out in the open. This is a feature that used to be popular in homes many years ago and now it is making a modern comeback. If you aren't handy in the kitchen, others have used it as a place for a mini bar, extra storage for linens and appliances, or as a place to run a dehydrator or slow cooker as strong smells (like onions) can be contained to the one room.
Other handy features include sturdy granite or quartz countertops, LED under cabinet lighting, and the option to have both electric and gas appliances in case you change your mind down the road.
A traditional living room design, popular generations later
The main living space is one of the best rooms to showcase a feature. For cozy and sophisticated looks, a floor-to-ceiling stone fireplace is an absolute must. A thick, wooden mantle adds another element of natural decor to the space, giving it a true Canadian house design feeling.
To maintain the openness presented by the Cathedral entrance, consider vaulted ceilings accented with beams that match your fireplace mantle.
Most of all, don't overcomplicate the look of your family room. This is a space to gather and focus on each other, not the decor.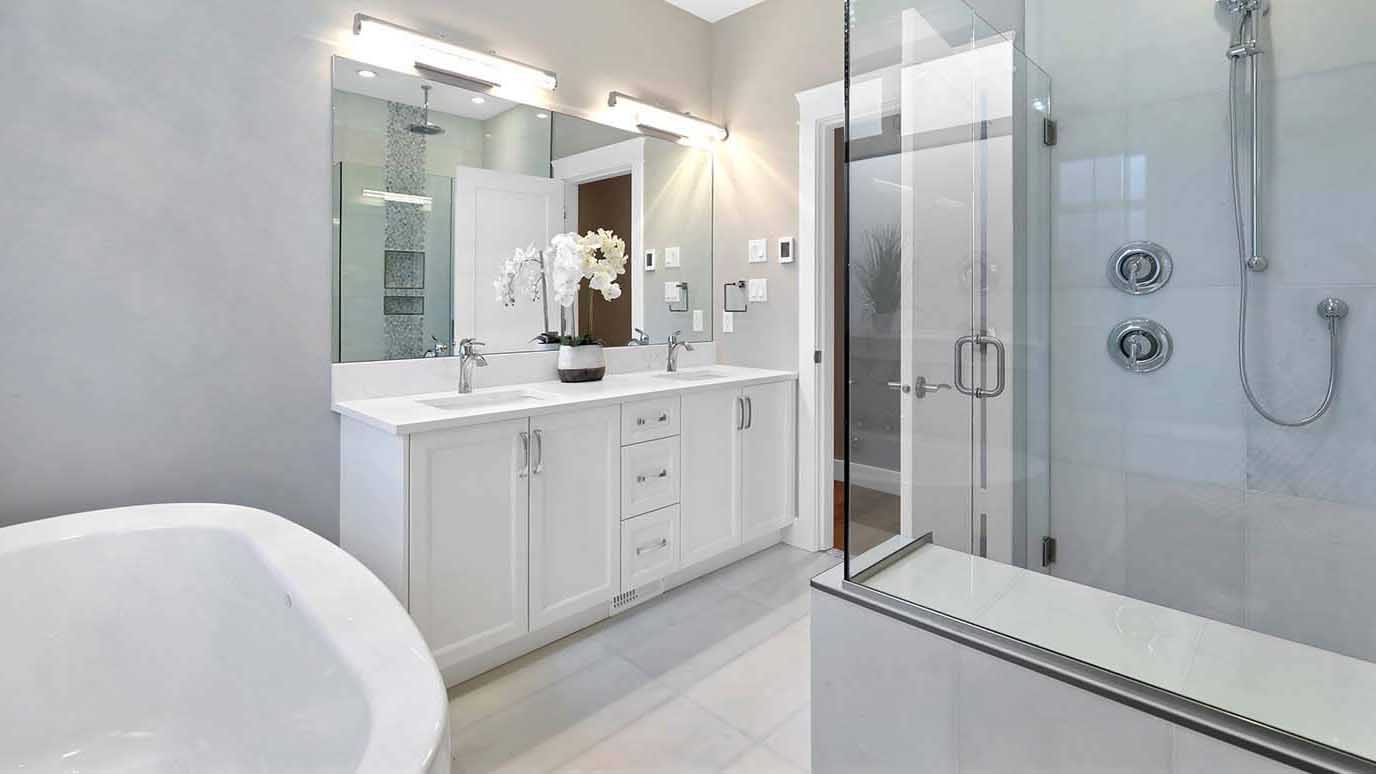 What's a bedroom without a walk-in closet and master bathroom?
When designing a master bedroom, make sure you include two things: a private bathroom and a walk-in closet. Having your own space for your items is essential, even if you don't have curious guests. The peace of mind that comes with having enough private space for your items can't be understated.
If possible, consider having both a shower and a soaker tub in your ensuite. While you may already have that in your guest bathroom, having a relaxing bath in your ensuite adds an extra layer of privacy and peacefulness that mimics a spa-like experience. If you prefer a shower, the addition of a small bench or place to sit within the shower itself is a nice touch.
When it comes to bathroom design ideas, less is more. Stick with a minimalist design, choose a small amount of high-end finishes, and accent lightly with a consistent design.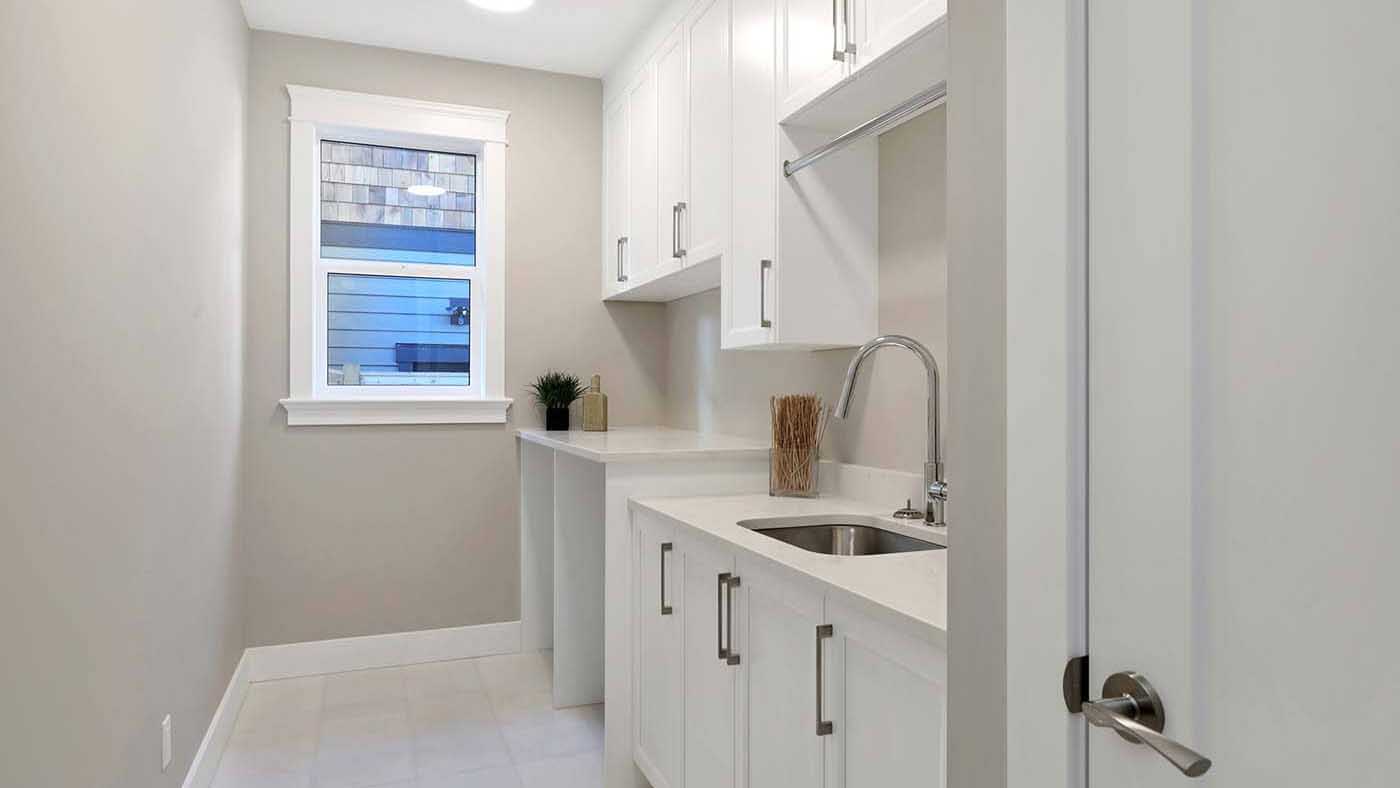 A designated laundry room on the same floor as the bedrooms
When you were a child, do you remember your mother carrying up loads of laundry from the basement? Day after day, the routine never seemed to change, but you can believe her joints sure felt it. By having a designated laundry room on the same floor as the bedrooms, you can bet the bulk of the laundry will never have to leave that floor.
If you have chosen a rancher floor plan – even better. No stairs immediately make that process easier. Also, a designated laundry room allows enough space for washing, drying (via a machine and/or drying rack), folding, and perhaps a chair to have a few moments to yourself. It sounds like a small thing to move your laundry room upstairs, but these small adjustments in your home can have a positive impact on your daily or weekly routines.
Don't forget your exterior spaces
Many people focus on the interior when designing a new custom home, but the exterior is just as important.
It is essential to have some sort of space outdoors to relax – whether that is a concrete patio or a balcony off the bedroom, it needs to be part of the package. If your home is using natural elements such as wood or stone, then tying these into your outdoor space will bring it all together. Hardi-plank and cedar shake siding, wooden beams, and stone accents complement the interior designs while adding exceptional curb appeal. Plus, natural decor elements such as these tend to have a calming effect which is perfect for your outdoor relaxation space.
For larger lots, fencing adds privacy while an irrigation system makes daily outdoor chores far easier. Consider designing not just for looks, but for making your everyday life a little easier and less stressful.
Attached garages are superior features
An attached garage has several perks. Once you experience having one, you'll never want to live without it again.
Even though you may not be heating it directly, it does receive some residual heat from the rest of your home. This makes it just warm enough to help with the maintenance of your vehicle, plus it makes the transition from your home to getting into your vehicle seamless. As it is out of the elements, you won't have to worry about shoving snow off the roof, deicing the windshield, or cleaning pollen and dirt off the exterior as often.
Oh, did we mention bringing groceries home just got a lot easier? Gone are the days of your kids throwing on any old pair of shoes to haul groceries up the steps to the front door. With an attached garage, you can easily transport materials from your car into your home without getting a drop of rain on you. That's more like it.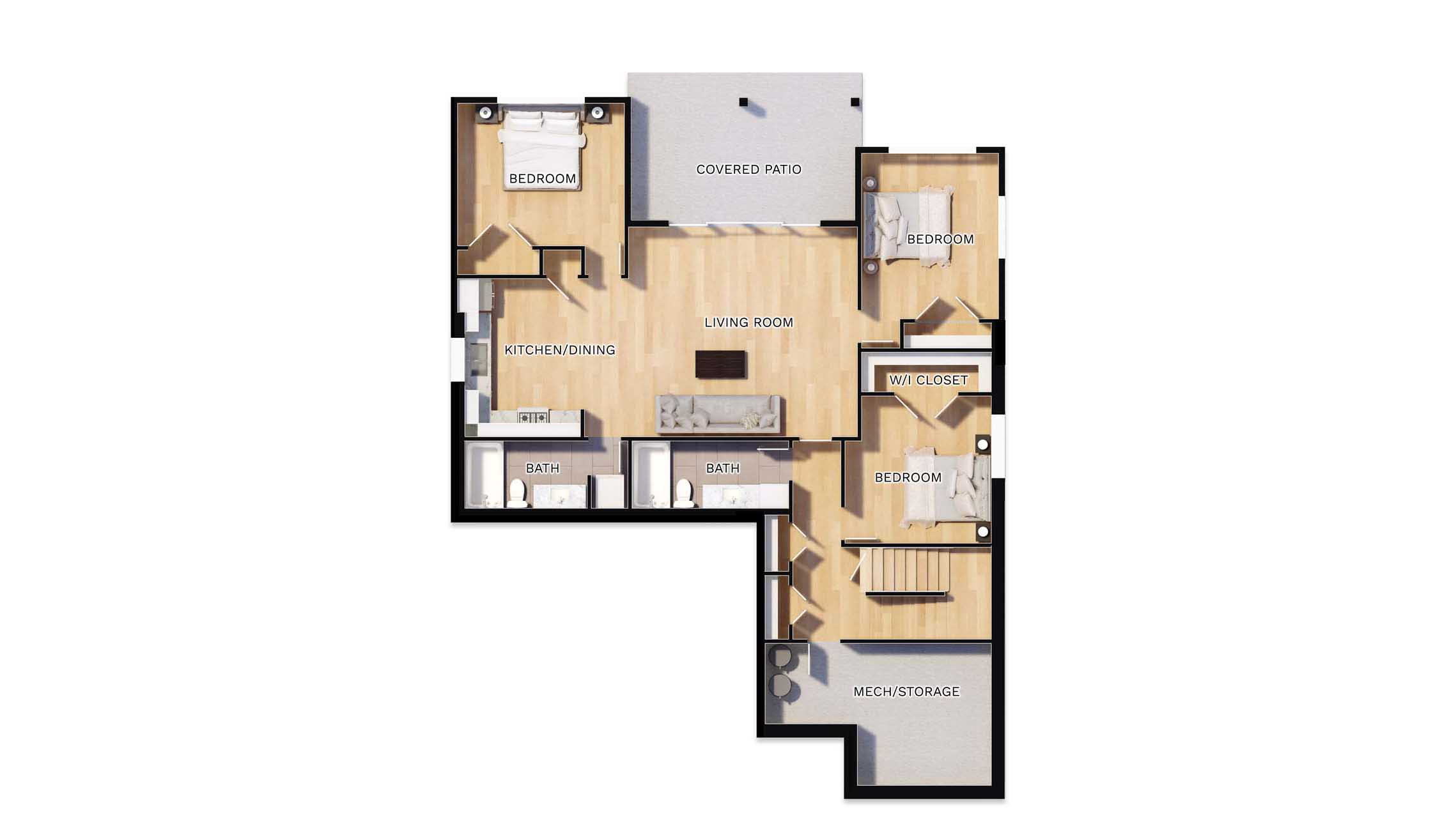 Custom floor plans invite potential investment opportunities
As costs keep rising in the real estate market, why not bank some of that for yourself? A common tactic, especially for retirees, is to build a legal suite either in the basement or as an add-on. This helps bring in reliable, passive income year-round. If you have great tenants, a bonus can be that you'll have someone around to keep an eye out while you are on vacation.
If you plan on living in your home for many years to come, it is worth considering what features you can include in your design that will help you later in life.
Your Nanaimo Builders
Building a custom home is both an exciting and potentially overwhelming experience. Thankfully, the professionals at Ballard Fine Homes have been helping clients turn their dreams into beautifully custom-built homes through a positive and exciting experience. Our fine selection of features paired with our expertise, streamlined building process, transparency, and respect for our clients make each project enjoyable.
If you are curious about what steps are involved in building a custom home and how Don Ballard and his team can help, please reach out to our office. We look forward to hearing from you and learning more about how we can help turn your visions into a beautiful home.