Looking for some bathroom inspo? For your next build or renovation, you'll want to check out our list for washroom design ideas – suitable for mains and ensuites alike. Make your space look brighter, more inviting, and easier to clean with a smart design.
Ensuite bathroom ideas
Whether it's off the master bedroom or a guest room, ensuites tend to feel more personalized than the other bathrooms in the home. All the suggestions on this page are suitable for ensuites and shared spaces.
Elegant bathrooms
Take a page from the history books when choosing to design an elegant bathroom. By choosing a few gems and giving them a modern, updated look, these elegant bathroom ideas write their own histories.
Floating vanities and open shelving give the illusion of a larger space
Dimmer lights help control the feel of the room, making it seem more spa-like.
Install a large bathtub, such as a claw-foot or jet tub for a relaxed aura.
Go minimal. Minimalist bathrooms often appear to be more put-together than cluttered, disorganized alternatives.
Mix and match old and new styles such as antique wood vanities with glass shower doors or black matte hardware.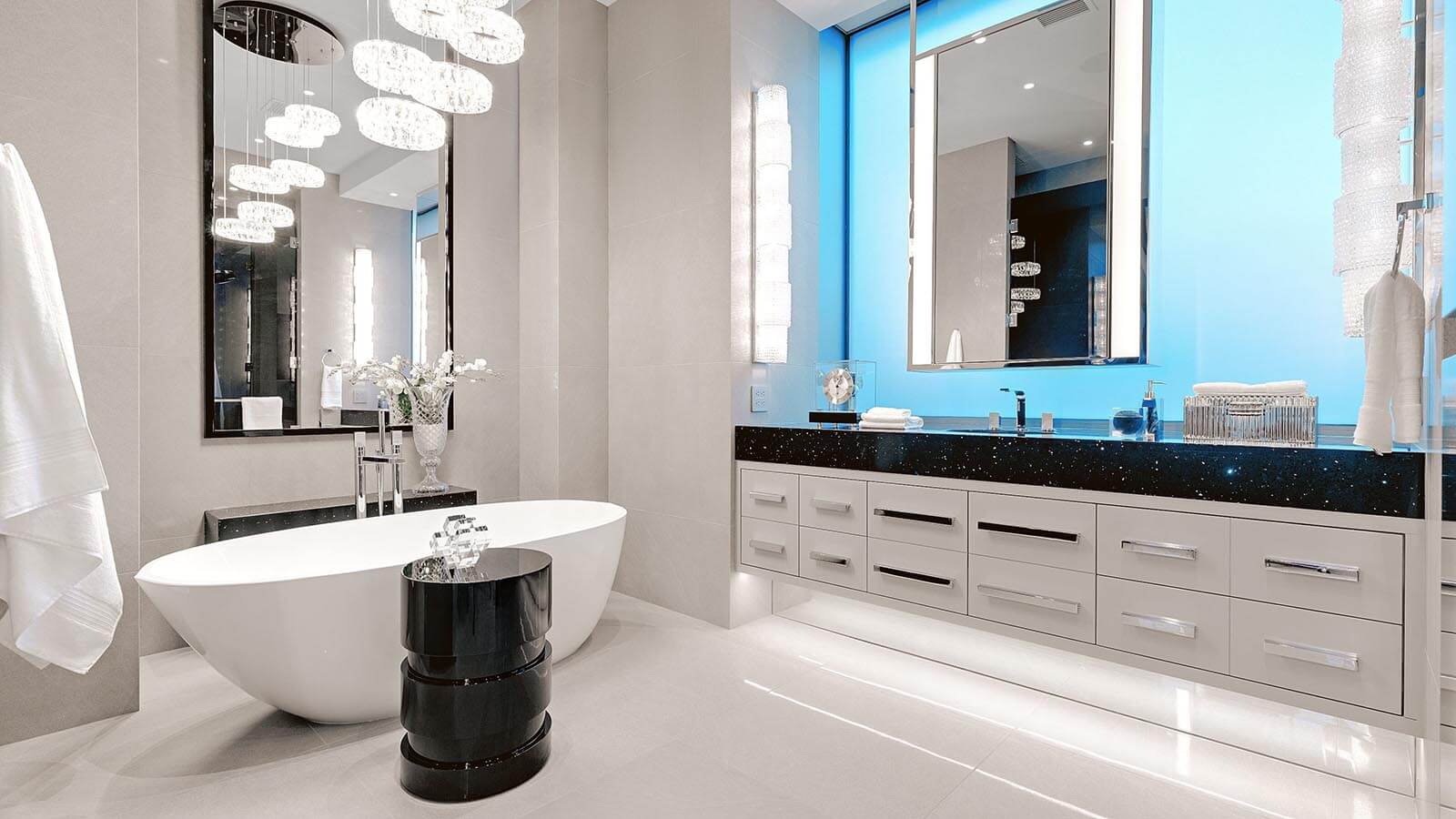 Modern master bathroom ideas
How do you transform a regular bathroom into one that looks modern? One of the key features is how you organize your personal items. In short, hide them from view and adopt a minimalist design.
Clean and simple designs that lean towards minimalism make your bathroom look more spacious, clean, and clutter-free. Modern designs move away from ornate decor, emphasizing streamline designs.
Create a "wet room" where anything can get wet because there are carefully placed drains in the floor. Essentially, the entire room is like a shower, with no enclosed spaces.
Ditch the hardware on your cabinets and opt for soft-touch drawers. A smoother surface promotes a minimalist, modern look.
Grey and white are commonly seen in modern bathroom designs because of their versatility. Adding a pop of colour as an accent is easier when your base colours are already neutral.
Fun bathroom decor
Looking to add some personality to your bathroom? Perhaps you aren't the type that is into a modern or minimalist look, but you still want your washroom to look a certain way.
Opt for subtle humor in an art piece. This could be a funny sign on the back of the door or a beautiful looking art piece that has a hidden message once you get close enough to get a good look at it.
Transform the room with a patterned shower curtain. If you can't decide on a particular colour, use a shower curtain as your inspiration and then choose pieces that match.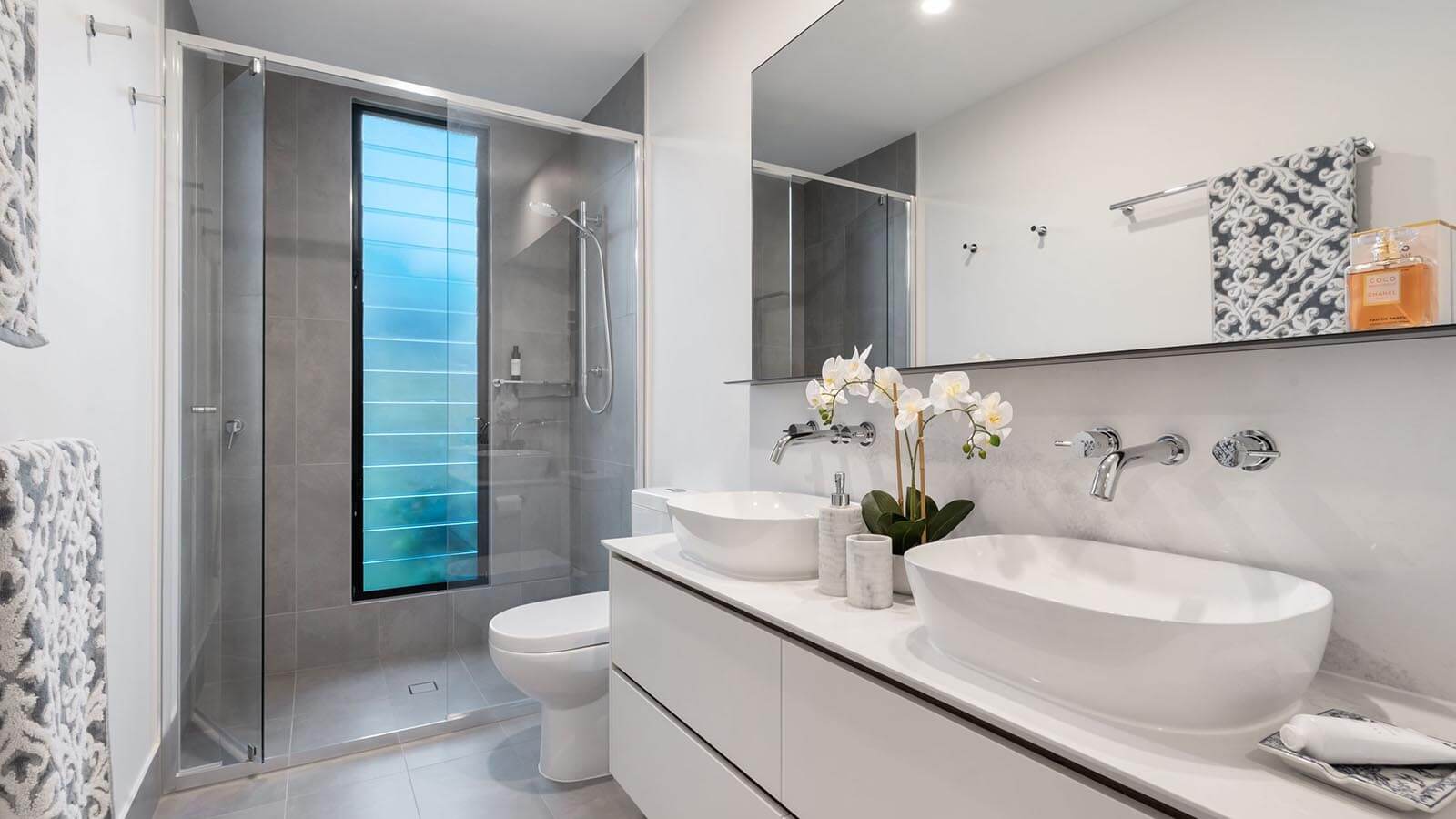 Bathroom wall designs
The right wall design can transform any room, just not the bathroom. As these rooms are often on the smaller side, usually there is only enough space to choose one or two wall decor items or designs. Choose carefully and measure your ideal size before you go to the art gallery. Using tile as an accent can make a great impact, too.
Ready to renovate your bathroom?
The bathroom is one of the most impactful rooms in the home. A beautifully renovated bathroom or kitchen can influence potential buyers to make an offer on your home. If not selling, a renovated bathroom can provide more functionality, easier to clean, and looks great!
Drop by Ballard Fine Homes to browse our showroom where you can see examples of different finishes and how they all work together to create something truly stunning. Our knowledgeable staff are happy to provide you with help to turn your ideas into a custom renovation. When in doubt, let us guide you through some decisions others have made so you can see if they will work well with your vision, goals, and budget. We look forward to meeting you!