Looking for something fun to do on Vancouver Island? Check out our list of tourist attractions you absolutely cannot miss!
Stop to smell the roses at the Butchart Gardens
One of the most popular attractions on Vancouver Island is undoubtedly the Butchart Gardens.
Located near Victoria, Butchart Gardens is a world-renowned horticultural display that attracts millions of visitors each year. The gardens encompass over 55 acres and feature various themed gardens, including the Sunken Garden, Rose Garden, Japanese Garden, and Italian Garden. Throughout the year, the gardens also host special events, concerts, and fireworks displays, further enhancing its appeal.
Butchart Gardens has earned its reputation as one of the most popular and beloved attractions on Vancouver Island. Although there is an admission fee, it offers an enchanting and tranquil experience that is worth the cost.
Visit the Goats on the Roof at Coombs
The goats at Coombs are one of the unique and charming tourist attractions that draw visitors to the Coombs Old Country Market. You can find the Coombs Market in the community of Coombs, near Parksville. Visitors love to watch the cute goats munching away on the grass on the roof of the market.
In addition to the goats, the Coombs Market itself is a bustling destination with various vendors offering a range of products, including local produce, crafts, clothing, and food. It's a lively and vibrant spot to explore and experience a taste of the local culture while enjoying the whimsical presence of the goats on the roof.
Hit the slopes at Mount Washington
If you're visiting during the winter months, head to Mount Washington Alpine Resort near Courtenay. It's a fantastic vacation spot during the winter months.
Mount Washington is known for its excellent skiing and snowboarding conditions. The resort features a variety of runs catering to different skill levels, from beginner slopes to challenging black diamond runs. There are also terrain parks for freestyle enthusiasts to practice tricks and jumps. Other options include cross-country skiing, snowboarding, snowshoeing, tubing, snow biking, and various winter events throughout the season, including competitions, races, and special activities like torchlight parades and fireworks displays.
The Alpine Lodge, Ted's Bar & Grill, Eagle View Bistro, and various coffee shops and cafés provide a selection of meals, snacks, and beverages, too.
Looking for an island near Vancouver Island to visit? Try Newcastle for a family-friendly outing
Newcastle Island is a relatively small island located just off the coast of Nanaimo. It is on the smaller size, spanning approximately 336 hectares (830 acres) in size. This beautiful marine park offers scenic trails, sandy beaches, and picnic areas, making it perfect for hiking, cycling, and relaxing by the water. Visitors enjoy canoeing, kayaking, bird watching, swimming, and having a family picnic.
The island is easily accessible by a short ferry ride from Nanaimo's downtown harbour. It is indeed possible to visit the island as a day trip, allowing you to enjoy its natural beauty and engage in various activities during your visit. However, if you wish to extend your stay, there are camping facilities available on the island. The Newcastle Island Marine Provincial Park offers walk-in camping sites where visitors can spend the night surrounded by nature. The camping area has basic amenities such as pit toilets and fresh water taps, but it does not have electrical hook-ups or showers. Camping permits and reservations are required, and it's advisable to check with the park authorities for availability and regulations.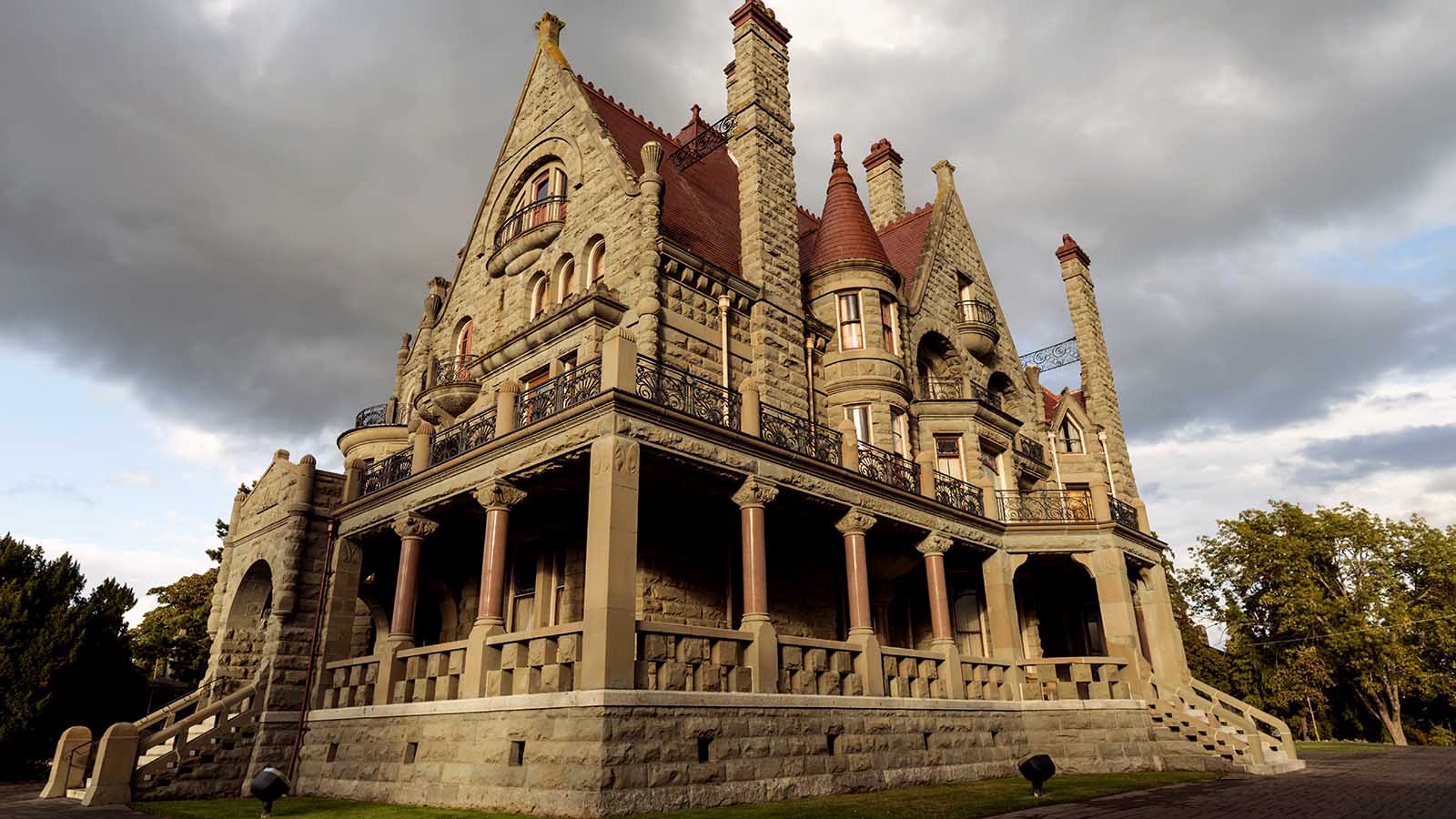 Walk around a real castle (without visiting Scotland!)
Explore the impressive Craigdarroch Castle in Victoria, a stunning Victorian-era mansion built between 1887 and 1890 for Robert Dunsmuir, a Scottish immigrant who made a fortune in the Vancouver Island coal industry. The castle's construction was a grand undertaking, incorporating elements of Scottish Baronial, Gothic Revival, and Romanesque architectural styles.
Today, Craigdarroch Castle operates as a National Historic Site and is open to the public as a museum. The castle showcases its preserved interior, featuring intricate woodwork, stained glass windows, and period furnishings, offering visitors a glimpse into the opulent lifestyle of the Dunsmuir family and the Victorian era.
Whale Watching in Tofino
Tofino is a charming coastal town and is an ideal destination for outdoor enthusiasts. Visitors enjoy the breathtaking beauty of sandy beaches, hiking in the nearby rainforests, or trying their hand at surfing in the pristine Pacific waters. It offers a mix of affordable accommodations and budget-friendly outdoor activities, making it an excellent option for those seeking adventure.
One of the most popular Tofino activities is to go on a whale-watching tour. The waters around Tofino are frequented by several whale species, including gray whales, humpback whales, orcas (also known as killer whales), and occasionally even minke whales. The most common sightings are gray whales and humpback whales, which migrate through the area during specific times of the year. This is a Vancouver Island highlight you won't want to miss.
Shop until you drop
Looking for a souvenir? There are numerous shopping and dining options all over Vancouver Island. Some of the most popular can be found in Victoria and Nanaimo.
Victoria's Inner Harbour area offers a blend of high-end shops, local artisans, and specialty stores. Explore Government Street, Trounce Alley, and Johnson Street for a diverse shopping experience. Nearby, Bastion Square is a historic open-air square that hosts a vibrant artisan market during the summer months, too.
Next, visit Victoria's Chinatown district, where you'll find an eclectic mix of shops, antique stores, and specialty boutiques. Discover unique finds, Asian artifacts, and international food markets as you wander through the colourful streets. Grab a bubble tea while you're there!
Nanaimo's downtown area is home to an array of shops and stores. From unique boutiques and art galleries to local artisans and fashion retailers, the downtown core offers a mix of shopping options. Explore Commercial Street and nearby side streets for a delightful shopping experience. The northern end contains Woodgrove Centre, a shopping mall with over 140 stores. Talk about a one-stop shop!
Vancouver Island Living – why visit when you can stay for good?
Residents know that living on Vancouver Island means having a lifestyle that is more laid-back and closer to nature compared to the mainland. Smaller communities, unique attractions, and a vibe unique to its own all contribute to the reasons why people love to live on Vancouver Island.
From waterfront homes in Parksville to large, single-family homes in Comox, Vancouver Island offers a variety of real estate options for all types of lifestyles. With the mountains and the sea side-by-side and real estate often more affordable than in Vancouver, it just makes sense to live on Vancouver Island. Building a custom home is a growing trend, so why not give it a try? The experienced professionals at Ballard Fine Homes specialize in building custom homes on Vancouver Island. If you can dream it, Ballard can build it – so what are you waiting for?