Renovating different spaces around the house is a great way to improve productivity and create space for enjoyment. Whether you work from home, have children who need a study area, or simply want a cozy spot to relax in, there are many ways to transform your living spaces. In this article, we will explore a few ideas for renovating various spaces around the house, focusing on ways to balance productivity and enjoyment.
A few small house renovation ideas
Is your house small? No problem. The benefit to a smaller home is the renovation costs are usually lower, as fewer materials need to be used to completely change the look and feel of the space.
Here are a few quick ideas for remodelling smaller spaces:
A simple coat of paint can give your home a fresh, new look. You can choose a neutral colour to make the space feel larger or go bold with a statement colour to add character. We recommend white or off-white ceilings to create openness while using bold colours as accents.

Update fixtures and hardware. Replacing outdated fixtures and hardware in your kitchen and bathroom can give the space a modern, updated look. This includes things like faucets, drawer pulls, and light fixtures.

Installing new flooring can completely transform a space. You can choose from a variety of options, including hardwood, laminate, tile, and carpet.
These tips are general and can be used in most rooms. Read on to discover more tips based on specific rooms in your home.
Home Office Inspo
If you work from home or need a space to study, having a comfortable and functional home office is essential. One way to improve productivity in this space is to ensure that it is well-lit and free from distractions. Consider installing adjustable lighting fixtures or adding window treatments to control the amount of natural light in the room.
You may also want to invest in a comfortable desk and chair that support good posture, as well as shelving or storage options to keep the space organized. Personal touches, such as artwork or photographs, can make the space feel more inviting and inspire creativity. A nice rug under your desk is an easy way to add a pop of colour and protect your floor from friction caused by your office chair.
However, it's important to strike a balance between productivity and enjoyment in your home office. Your home office layout matters, too. Incorporating plants or a small fountain to create a soothing atmosphere, or adding a cozy reading nook for breaks and relaxation are nice options. A nice candle or small statement piece can go a long way in adding personality and charm to your desk.
Large and small kitchen renovation ideas
The kitchen is often the heart of the home, where we gather to cook, eat, and socialize. However, a cluttered and disorganized kitchen can lead to stress and decreased productivity.
One way to improve the functionality of your kitchen is to create more storage space. This can be seen through the addition of cabinets or shelves, or investing in a kitchen island with built-in storage. This will help you keep your countertops free from clutter and make it easier to find what you need when cooking or entertaining.
As an alternative to the norm, you may also consider adding a cozy breakfast nook or creating a space for socializing while you cook. You could also add a small herb garden or indoor plants to bring a touch of nature into the space.
Here are some more kitchen renovation ideas:
Update the Cabinets: Replacing or repainting the cabinets is a great way to give your kitchen a fresh new look. You can also replace the cabinet doors or add new hardware for an updated look.

Upgrade the Countertops: Upgrading the countertops can make a huge difference in the look and functionality of your kitchen. Popular options like granite, quartz, or butcher block are stylish and durable surfaces.

Install New Appliances: Upgrading your appliances can make a big difference in the functionality of your kitchen. Look for energy-efficient options that can save you money on your energy bill. Smart appliances look great and they add a ton of functionality.

Add a Backsplash: Adding a tile or glass backsplash can give your kitchen a stylish look and protect the walls from spills and splatters.

Change the Flooring: Upgrading the flooring can make a big difference in the overall look and feel of your kitchen. Hardwood, tile, or laminate are good picks.

Upgrade Lighting: Upgrading the lighting in your kitchen can improve functionality and create a more welcoming atmosphere.This can be achieved by adding task lighting under the cabinets or pendant lighting over the island.
Compact kitchens especially benefit from additional storage solutions such as built-in cabinets, drawer dividers, and risers for storing canned goods.
Living room or basement renovation ideas
The living room is a space where we gather to relax, watch TV, and entertain guests. Both living rooms and basements tend to be some of the largest areas in the home. But what do you do with all that space? Here are some ideas to use upstairs, downstairs, and anywhere else you have a large, unused room.
Create a Home Theatre
Turn your basement into a home theatre by adding comfortable seating, a large screen, and a sound system. This is a great way to create a dedicated entertainment space for your family and friends. A basement media room also means most of the noise is muffled by being downstairs – a great idea for those that have kids.
Create a dedicated gaming room
A large screen for a home theatre can also be used as a gaming room. Many of the same features are handy for console gamers such as a large screen and comfy seating. Throw in a mini fridge, snack bar, and LED lights to set the ambiance and increase your focus.
Other fun and playful game room features can include objects like a pool table, foosball table, or ping pong table. This is a great way to create a space for your family and friends to have fun and unwind.
Add a Guest Suite
If you have guests staying with you frequently,it may be worthwhile turning your basement into a guest suite. This can include a bedroom, bathroom, and a sitting area for added comfort and privacy.
Personal fitness center/home gym
Looking for home gym ideas? Transform your basement into a cool home gym by adding workout equipment, mirrors, and a sound system. If your budget is larger, installing a personal sauna, hot tub, or inground swimming pool only help to complete the picture. This is a great way to stay fit without having to leave your home.
Other affordable ideas
Aside from specific themes, enhancing what you already have with a few tweaks can go a long way.
One of the easiest ways for decorating on a budget is by updating the walls with a fresh coat of paint or tasteful wallpaper. Along with new walls, lighting is key to creating a warm and inviting living room. Floor lamps, table lamps, or dimmer switches all help to create a cozy atmosphere. You can also add a statement chandelier or pendant light for a dramatic effect. Together, fresh walls and new lights have an impactful effect on the overall look and mood of a room.
Arguably the most affordable suggestion is to simply rearrange the furniture. Changing the layout of your living room can make a big difference in the overall look and feel of the space. Try different arrangements, feel it out for a day or two, then rearrange it back or try something new to see what works. Explore a thrift store for a second-hand piece of furniture if you're looking to add character, or invest in a designer sofa or similar piece for that "wow" factor you've been looking for.
Another affordable option is to simply clean up! If your living room lacks storage, you could spend some money on custom built-in shelves, or you can declutter to create more of a minimalist design. Even if you aren't a minimalist, having less clutter can make a room look brighter, larger, and more put together.
And finally, adding a statement piece like a large piece of artwork, a unique coffee table, or a striking rug can add personality and character to your living room. These don't have to be high-ticket items to have an impact. A family heirloom such as a handmade blanket, a piece of artwork created by a family member, or an exotic plant is another idea.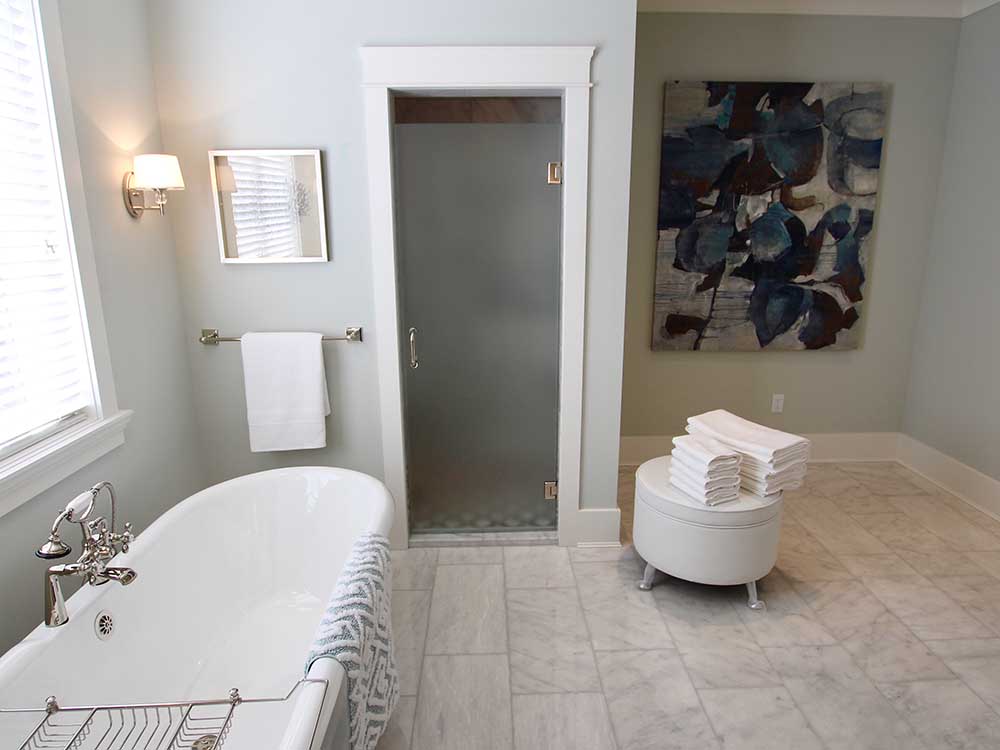 Bathroom renovation ideas
Another high-traffic area in the home is the bathroom. A bathroom makeover is always welcomed. Similar to the kitchen, there are some key things you can do to increase the look and functionality of your bathroom.
Update the fixtures: Replacing outdated fixtures like faucets, showerheads, and towel racks can give your bathroom a fresh new look. Choose a cohesive style that matches your taste and the rest of your home.

Change the flooring: Replacing the flooring in your bathroom can make a big difference in the overall look and feel of the space. Options like tile, vinyl, or waterproof laminate are suitable for bathrooms.

Add storage: If your bathroom is lacking in storage, simply adding cabinets or shelves to keep toiletries and towels organized can make a world of a difference. You can also add built-in storage solutions like recessed shelves or niches. Bathrooms are often smaller rooms, so small amounts of clutter tend to have a larger impact. 

Upgrade the shower or bathtub: Upgrading your shower or bathtub can give your bathroom a spa-like feel. A walk-in shower, a soaking tub, or a jacuzzi tub all make for a luxurious bathing experience. A

renovated shower

that contains an overhead or rain showerhead is another popular option.

Install new lighting: Installing new lighting can create a more welcoming and functional bathroom. This can be done by adding task lighting around the vanity and mirrors, and ambient lighting in the ceiling or on the walls.
Tying in design features from other rooms often works in bathrooms, too. Do you have a large plant in your living room that acts as a statement piece? Adding a smaller version in the bathroom can benefit from complimenting what you already have, as well as being its own mini statement piece.
Transform your Bedroom
The bedroom is a space where we go to relax and recharge. To create a peaceful and restful space, it is important to invest in a comfortable mattress and bedding. Adding blackout curtains or shades can also help you get a better night's sleep by blocking out light and reducing noise.
For those that like to work from their bed, creating a designated workspace will look better and feel better on your lower back. This could be a small desk or table where you can work on your laptop or read. Adding a comfortable chair or ottoman can also make the space more versatile and inviting.
Soft lightings, such as a bedside lamp or string lights can help transition between day and night. A cozy reading nook or a small seating area can also create a relaxing space where you can unwind and recharge.
Ready to renovate?
In conclusion, renovating various spaces around the house is a great way to improve productivity and create space for enjoyment. By incorporating functional elements, such as storage and workspaces, and adding personal touches, such as plants and cozy textiles, you can transform your living spaces into comfortable and inviting areas that balance work and play.
Are you inspired to update your look? Any job, small or large, is treated the same way by the staff at Ballard Fine Homes. We treat your home as if it were our own, which means it gets the attention and respect it deserves. Explore our Showroom for design inspiration, or talk to one of our staff about possibilities in renovating your home. We hope you enjoyed this article and look forward to hearing from you!