Don't miss out on these kitchen storage ideas for your next home remodelling project
Are you looking for some kitchen storage inspiration to help reduce all that clutter collecting on your island? Our list of kitchen storage solutions is perfect for kitchens of all sizes. Those looking for storage ideas for small spaces on a budget will find this article particularly helpful, too!
Install cabinets into your existing island
If it seems like your kitchen island is a magnet for household clutter, consider turning it into a storage unit. Installing cabinets will provide additional storage space. If you don't like the idea of handles, many soft-touch options provide an almost seamless finish.
Mount a knife or spice rack
If you find yourself limited on counter space, try moving some of those items to the wall instead. A magnetic, wall-mounted knife rack provides easy access in high-traffic kitchens. Of course, if you have small children then it is probably better to leave the knives in a drawer. But knives aren't the only things that can be moved from the counter to the wall. Spice racks and magnetic spice holders that attach to your refrigerator are popular for small kitchens.
Visit your local dollar store
The dollar store isn't one of the first places you would normally think of for a kitchen remodel, but there is a time and place for everything. Dollar stores often have affordable storage bins that are perfect for placing under the sink for cleaning supplies, organising the pantry, and finding a designated container for those odd-ball objects like reusable shopping bags. Some people find they are especially helpful for organising deep freezers and refrigerators.
Store dishes above the sink
In some countries, like Japan, kitchens are naturally on the smaller side so each piece needs to function at its peak. A smart design feature is to install a drying rack over the sink. Pots and pans are washed and then put on the rack to dry. Once dry, they stay there because that is their designated storage area.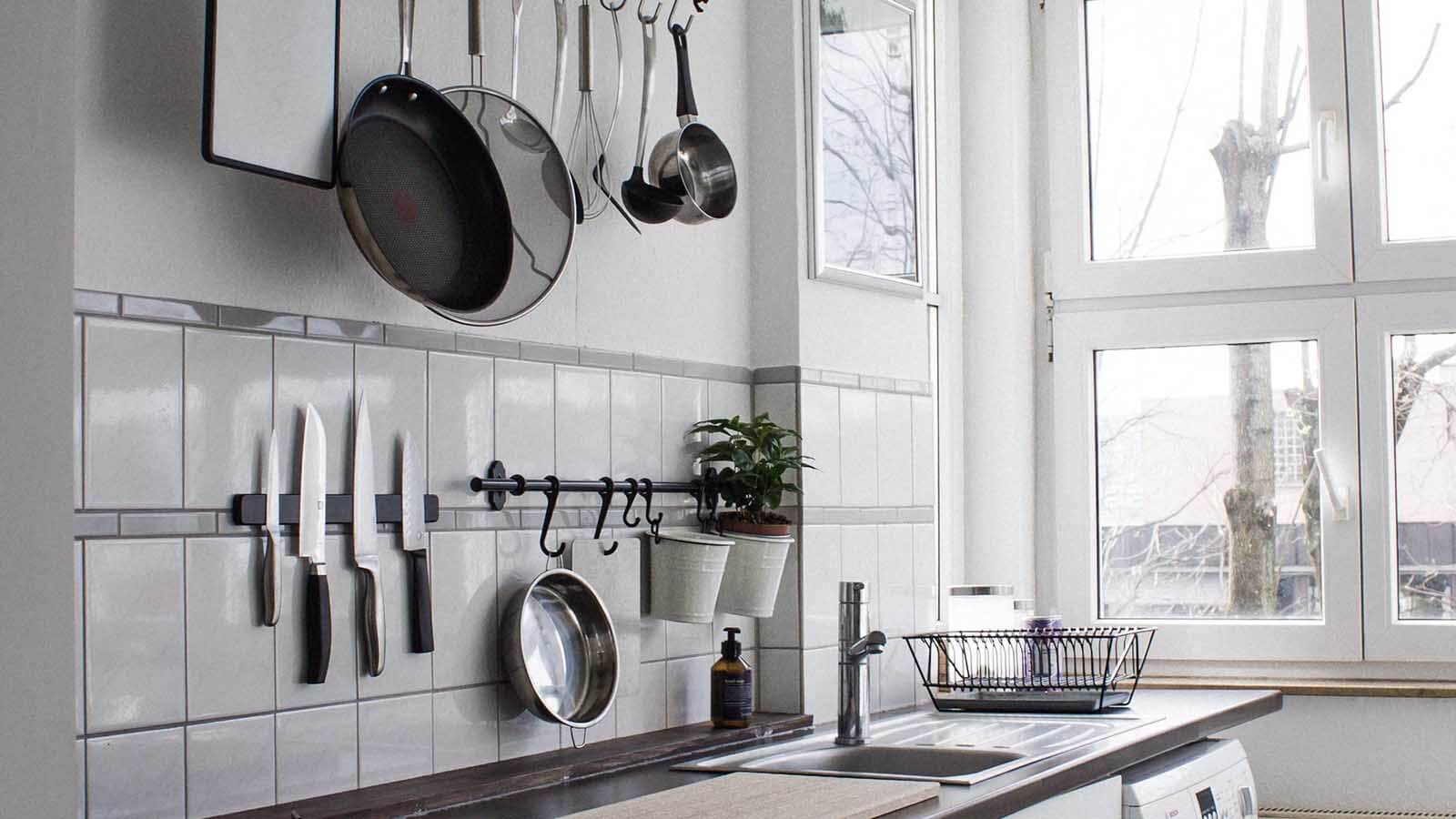 Collapsible strainers
Some kitchen tools, such as strainers or colanders, come in a collapsible design. They become full-size when you need them, but can be collapsed and tucked away in a drawer taking up far less space than a traditional version of the same tool.
Shower caddies and rods
Remember that dollar store we mentioned earlier? It's also a great place to purchase shower caddies. Hook a shower caddy over the pantry door or behind a cupboard, so they are only visible once you open the door. This provides vertical storage space for small objects like kitchen sponges and seasonings. A tension rod, similar to what you'll find holding up a shower curtain, can also be used to hang cleaning supplies at the back of your cupboard.
Label your pantry
It is easier to keep spaces clutter-free when everyone knows where items are supposed to be stored. Labelling your pantry is one way to help in this direction, especially if you are reusing containers to store something else (we're looking at you, coffee cans and margarine containers!). This can be done by labelling the container or the shelf it is located on. Using broad categories like breakfast, snacks, grains, or condiments can go a long way in organising a disaster pantry.
Add extra shelving or cabinets
If you need more space, add an extra shelf or cabinet. Open shelving is a popular design choice, as it makes smaller kitchens feel less boxed-in. Another kitchen organizer idea is to have a tall cabinet that only fits cutting boards. This can be slipped in next to the fridge, oven, or anywhere else there is a suitable gap.
You have the knowledge, so let's make it look great
This is only a small list of all the possibilities to renovate your dream kitchen. If you saw something that piqued your interest or want more ideas for how to remodel your kitchen, Ballard Fine Homes is here to help. Our business is known for building top-quality custom homes, but we also transform spaces through renovations. If you prefer to see our work in person, we have an extensive showroom with sample products, finishes, and rooms. If you can dream it, Ballard can build (or renovate) it! Contact us today to get started.