Building a custom home on Vancouver Island is a substantial investment, so you will want to make sure it is built exactly the way you want it to look. So how can you trust your builder to deliver on all your dreams, expectations, and customer satisfaction?
At Ballard Fine Homes, we take pride in our building process and develop meaningful relationships with our clients. In this article, we will introduce you to a few of the reasons we feel we are a trustworthy custom home-building company in Nanaimo and surrounding areas. If at any time you have questions or concerns about our values, and procedures, or want more information, please feel free to give our office a call at 250-586-9077. Transparency and trust go hand-in-hand at Ballard Fine Homes.
Importance of trust in the home building process
Choosing an untrustworthy homebuilder can lead to a myriad of potential risks and negative consequences throughout the homebuilding process. This can be seen through compromised construction and workmanship, resulting in structural issues and costly repairs down the line. Untrustworthy builders may cut corners, use substandard materials, or disregard building codes and regulations, putting the safety and durability of your home at risk.
Additionally, untrustworthy builders might engage in dishonest pricing practices, leading to hidden costs and financial surprises. This can also lead to poor communication and a lack of transparency, which may leave you feeling frustrated and anxious, as important details are withheld or misrepresented.
Moreover, these builders may fail to honor warranties and provide proper post-construction support, leaving you with unresolved problems and additional expenses. Ultimately, the decision to entrust an unscrupulous homebuilder can turn what should be an exciting and fulfilling experience into a daunting and regrettable one.
Don Ballard and his team strive for perfection and customer satisfaction. Read on to learn how we take special care for our clients to feel confident in trusting Ballard Fine Homes.
We take client satisfaction very seriously
One of the first things people do when trying to find out if a product or service is any good is to look up some reviews. So, we invite you to have a look at what our clients have said about working with us.
Our testimonials page lists several home-building reviews, including one by celebrity Marie Osmond. When it comes to trust, she said "I have met millions of people throughout my career and have never felt so close and trusted anyone, outside my family circle, as I do Don Ballard." Other clients have commented on our commitment to delivering on our promises and allowing our clients to feel comfortable and welcomed throughout the entire process.
Other places where you can view our reviews include our Google Business Profile and Houzz profile.
(To view our Google reviews, type "Ballard Fine Homes" into a Google search, then click on the review link on the sidebar.)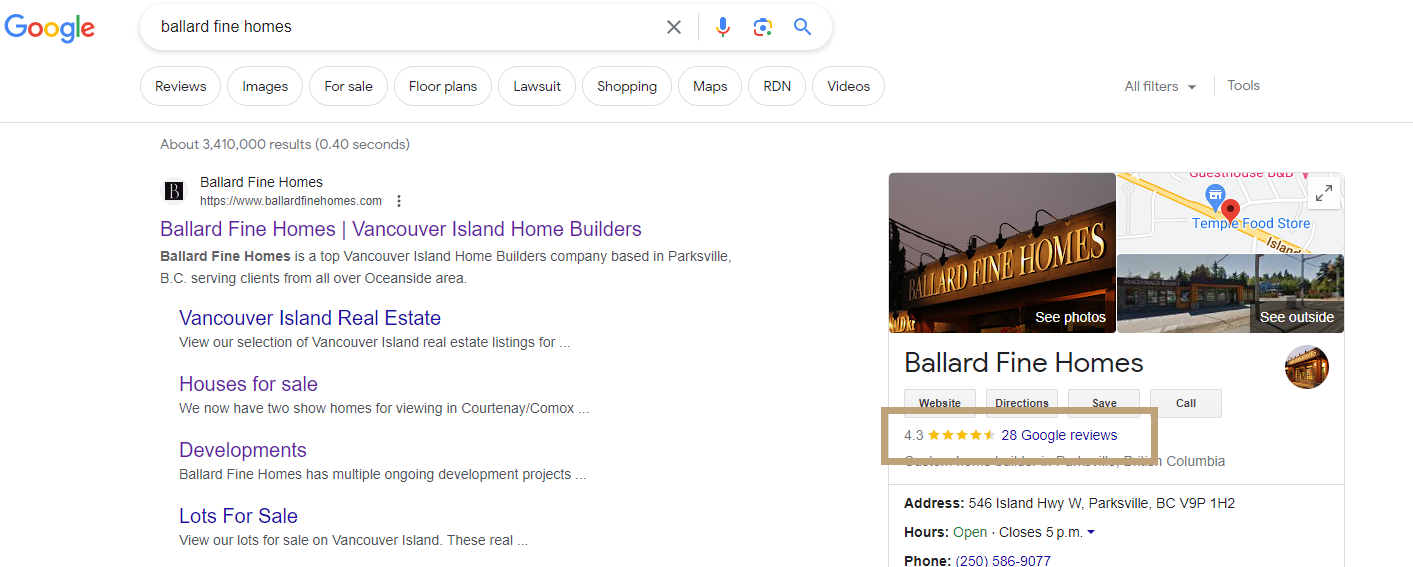 Our strong portfolio speaks for itself, have a look
After looking for good reviews, evidence of a job well done is often the next step. We would like to share a few more links for you to peruse at your convenience.
First, we post all homes for sale on our website that are not custom-built for clients. These model homes include interior and exterior photos so you can get a feeling for the types of designs and materials we prefer to use. We also have a list of several custom features available for our clients to choose from, available on our website.
Next, we invite you to read a wonderful article by the Business Examiner called "There's No Stoppin' Ballard Fine Homes." This article is a miniature interview with Don and provides a good level of insight into the company's mission and values.
Additionally, Ballard Fine Homes has been granted the "Best of Houzz" award for client satisfaction for 2019, 2021, and 2023. Houzz is a hub for professionals and customers to seek out home builders, inspiration, and purchase products. It is a one-stop shop for everything related to building a home. This award is based on customer reviews and feedback left on that website. We are very proud and privileged to have accepted this award several times.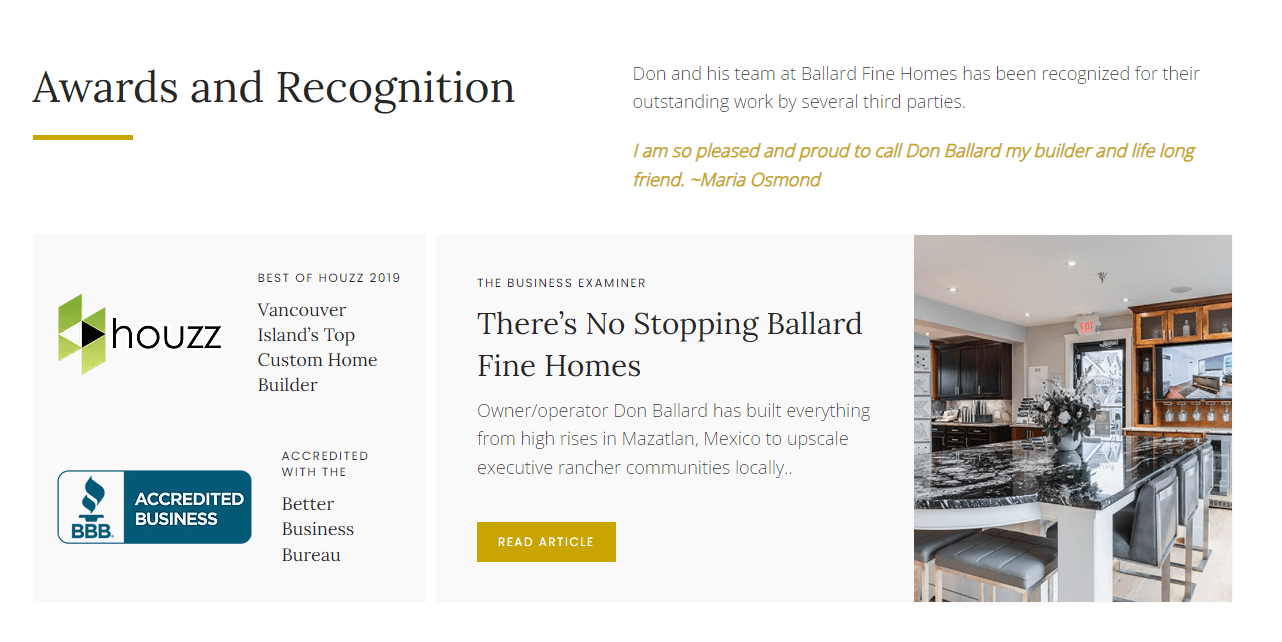 The Ballard Fine Homes Difference
At Ballard Fine Homes, we see our clients as people with dreams, needs, and high expectations for professionalism and a job well done. Our old-fashioned family values mean that we treat our clients as if they were our own family, giving them the respect they deserve.
Building a home is a substantial investment, and often the most expensive purchase some people will make in their lives. We are there for you while the home is just a dream, during the building process, and long after you've moved in. We do not churn out homes for profit and then disappear – we are available for our clients to address any modifications, concerns, or general questions. Building an exceptional home is only part of the process. Ensuring our customers are completely satisfied is another level of perfection we strive to achieve every time.
Transparency and trust are at the heart of our company, followed closely by professionalism and our strong attention to detail for our designs and craftsmanship. We invite you to visit our Parksville office to meet our team, learn about our building procedures and practices, and browse through our extensive showroom where we have on display several high-quality finishes and materials used often in our homes. We look forward to meeting you!